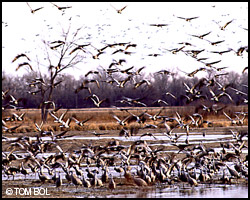 .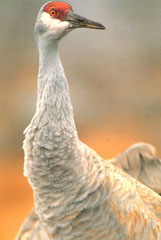 Magnet for Wildlife

Late winter is a slow time for grain farmers in south-central Nebraska. Pivot irrigation systems stand idle over fall-plowed corn and soybean stubble. Not even a barbed wire fence slows the wind as it sifts snow over the grain-fields. Only blue silos and shimmering steel grain bins break the endless line where sky meets earth. Here and there an old two-story, frame farm house cowers in the protection of leafless elms, their number dwindling each year as farms and equipment grow larger and fewer families live on the land.

Near the end of February, though, the region's population swells as 7 million ducks, geese, cranes and other water birds arrive from wintering grounds in the southern United States and Mexico. During the next two months, water birds in almost incredible numbers and varieties pause in the Rainwater Basin to rest and feed.

Newly arrived white-fronted geese drop eagerly to the first marsh they encounter in the seemingly endless sea of tilled earth, side-slipping down through the last 200 feet of atmosphere. Snow geese march down rows of corn stubble gleaning what remains of the previous fall's harvest. Gangs of sleek drake pintails careen over the marshes, weaving and banking in tight formation behind unmated hens.

Since the time when water first filled the shallow depressions of the Rainwater Basin, water-loving birds have stopped there to rest and feed during their twice-a-year journeys between northern nesting grounds and southern wintering grounds. A string of wetlands once extended across the mid-continent from the Gulf Coast to the Arctic, a lifeline for migrating wildfowl. As agricultural practices intensified and more wetlands were drained, that lifeline was fragmented, and the few wetlands remaining became increasingly critical stopovers.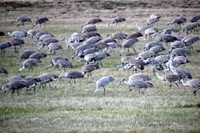 Sandhill Cranes
It has been estimated that the cranes consume nearly 1,600 tons of corn during their stay. Fortunately, this is waste grain leftover from the fall harvest and, as such, provides a service to the local farmers by removing what would become volunteer corn in the next year's crop.